The build up to our cycling tour, the Strade Bianche Bike Tour was so exciting, finding the right words to describe just how amazing this Italian experience was, is not easy.
Guest arrival in Lucca:
After the various pick-ups at the airport, we convened with our new and old friends at the Palazzo Dipinto, the magnificent 4 star Hotel inside the walls of Lucca.
After our guests settled into their rooms, it was time for bike fitting.  We then set off to walk through the beautiful streets of Lucca, direction ChronoPlus Headquarters in Corso Garibaldi where you will also find our bike shop, selected as the finest in town by Cycling Tips!
A great scene awaited our guests at the bike shop, on opening the door, their eyes lit up at the sight of 10 Cervèlo R5 DA DI2 Black/Graphite.
Paladino and the team were on the ball and our guests were soon testing the Cervèlos on the 500 year old walls of Lucca.
With the bikes ready and our cyclists sporting their personalised jerseys, we headed out for our Sgambatella, a 35 km ride around the hills of this magical region, Tuscany.
By 20:00, showered up and changed, we were ready for relaxing over some great Italian food & vino. The ChronoPlus team chose a great restaurant that offers the best traditional dishes in town.
Off to Siena:
Suitcases packed, a nutritional breakfast downed and bikes waiting in the van, we were ready to leave for Siena, the town that hosts the unique GranFondo Strade Bianche.
The ChronoPlus Team worked hard to locate the best accommodation for our long weekend in Siena and after visiting a few locations, we selected a 5 star resort.  Our guests were mesmerized when they saw this once medieval village, nestled in the Tuscan countryside, surrounded by incredible views over rolling hills and cypress trees.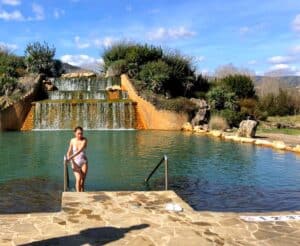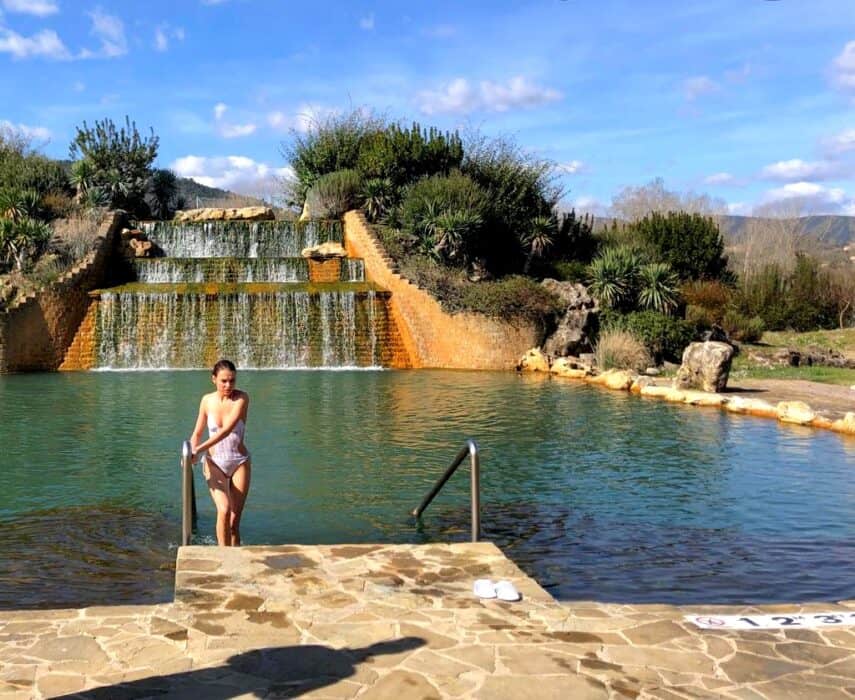 The smiles of our friends' wives, attracted to this event for its magnificent location, said it all on seeing the this incredible resort's Spa, an oasis of wellbeing and regeneration among the green Tuscan hills.  The location was perfect set right in the centre of the Strade Bianche stage, so while the ladies prepared for relaxing, we prepared for cycling.  It was fantastic to be able to test the stage out to know what was ahead!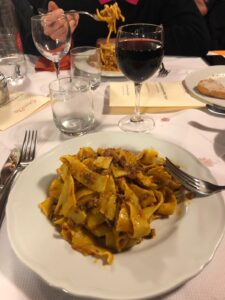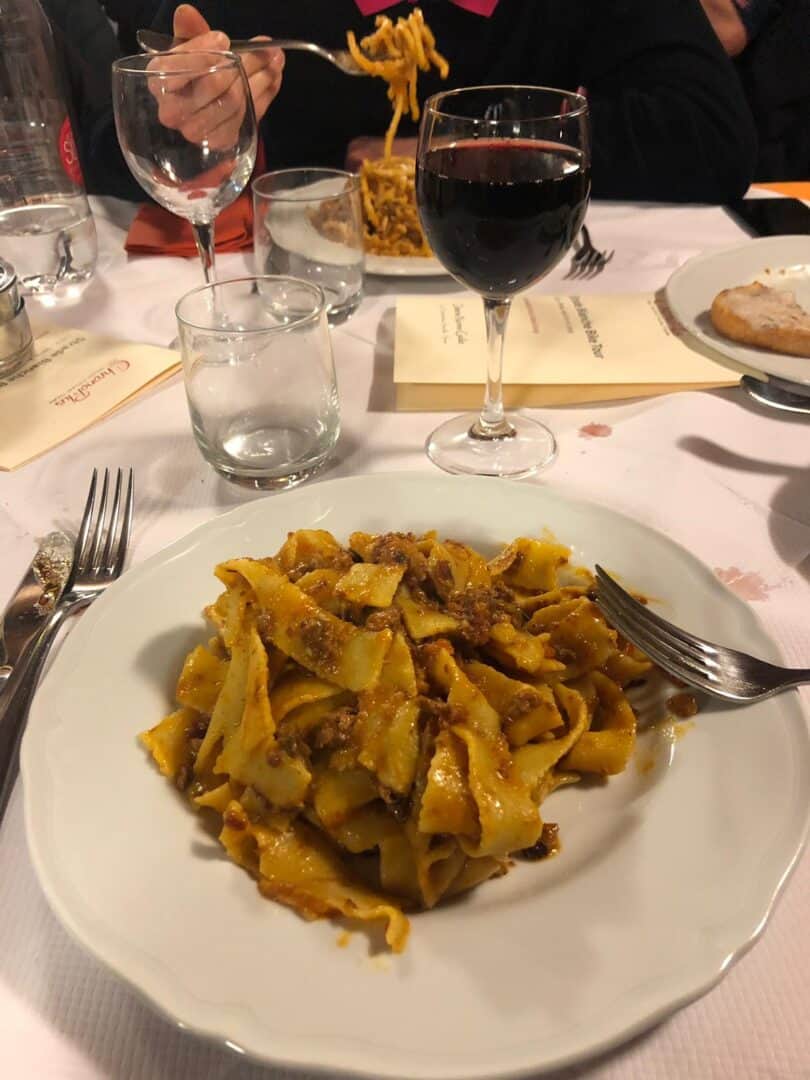 In the evening we headed off for dinner and was treated to, let me say, one of the best dinners I've had in a restaurant near Siena. This great restaurant uses recipes passed down by Nonne (Grandmas) and Zie (Aunties), handwritten in small notebooks, the pages faded and sometimes stained with oil from the old days. In situations like these, the best option is to be their guest and let them bring what they think their best dishes are. From the homemade pasta to the Famous Bistecca Fiorentina, finished off with homemade cantuccini dipped in vin santo, was like being in a culinary paradise for the evening.
It's the Pros Day:
We rose early, and participated in a nice morning ride before the Pros got cycling.  Even though the race passed under our resort, we decided to venture into the centre of Siena.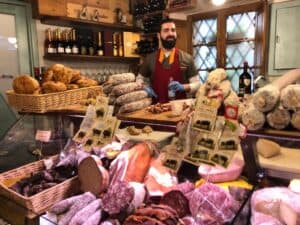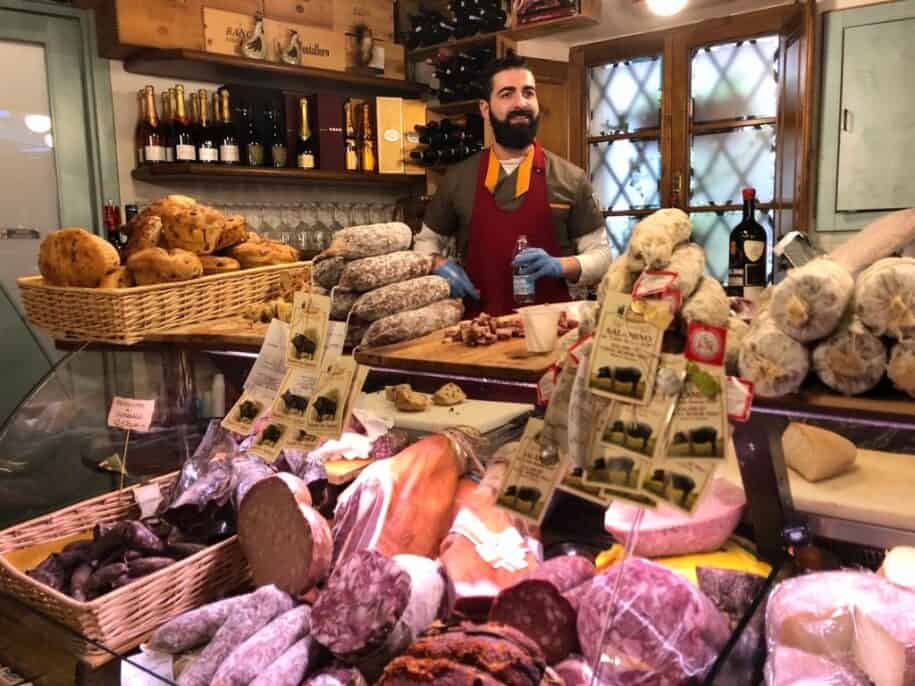 The city was bustling with life. There was an exciting atmosphere and a real Italian feel to the place, with the sound of music flowing through the streets and the aroma of coffee in the air.
More the 5000 people turned up for the event.
After visiting the town and stopping for a Panino of home made bread and typical food ingredients from the area, we went looking for the best spot to see the arrival of the pros.
What a race!
We had a light dinner that evening in another lovely restaurant and then retired to bed for the big day ahead of us.
Ready, Set, Go!
The day of this spectacular bike race was here, and we were all ready for it.
Standing amidst all those people was an incredible feeling  We were surrounded by so many different expressions, you could read on people's faces who was there for some fun and who was there to conquer the race.
Our main goal was to have a good time and to stick together as a group, knowing though that all of us wanted to give our best.
When we heard Ready, Set, Go! We were off!
When we arrived at the Strade Bianche stage, we got a very cool feeling.  It seemed like a battle between man and his bike on this white bendy road.  You find yourself pushing hard with your eyes concentrated on wheels that are slipping on white gravel, but by raising your head to see the beautiful surroundings, and with a push or a "forza" from a friendly stranger on another bike , you get to the end.
Once we got back to our resort, Giacomo, our professional masseur, was ready to do his magic with a great professional post-ride massage.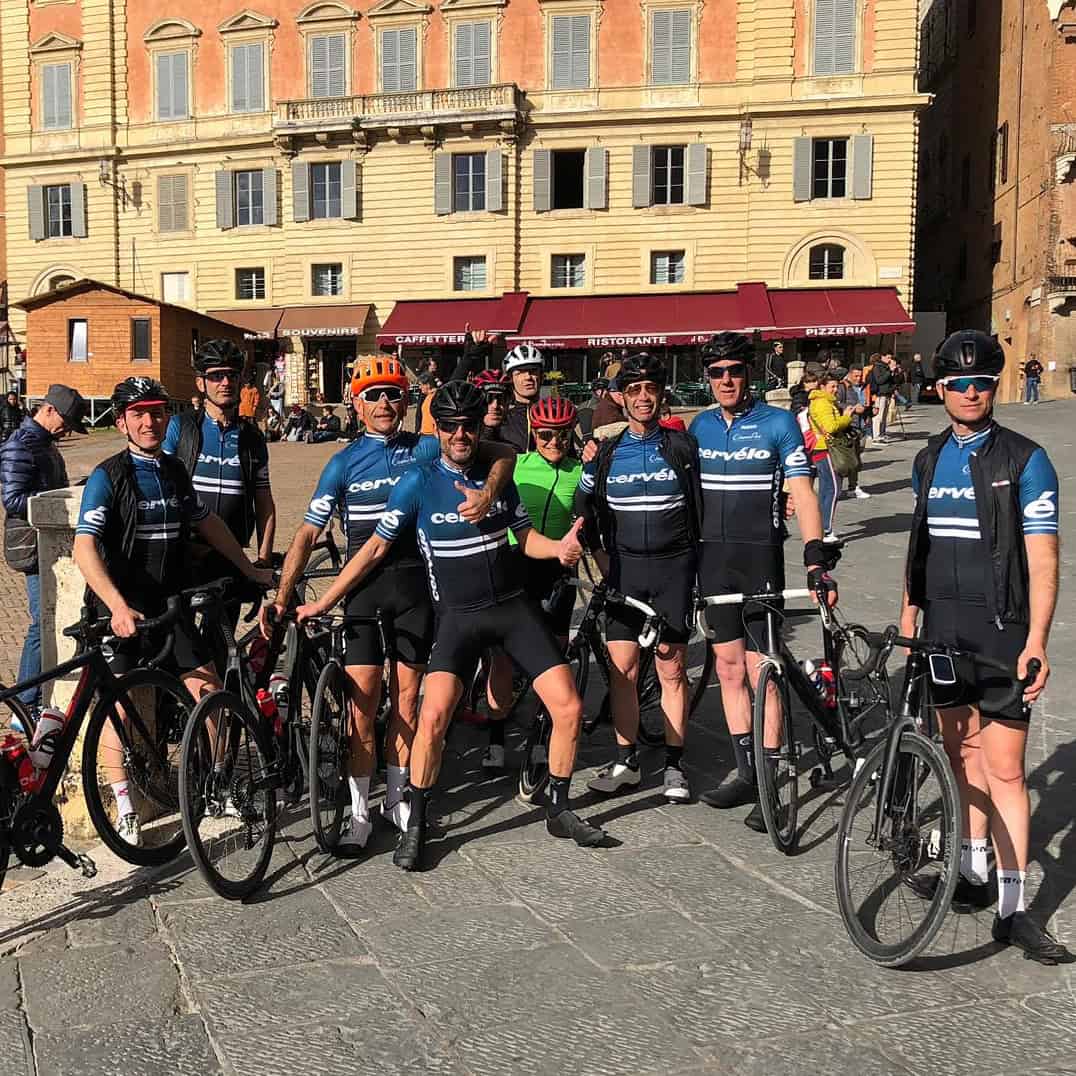 Back to Lucca:
On Monday morning , the main topic around the breakfast table was of course, the race.  Everybody was delighted with their own personal result.  Each of us had their own story to tell about the Strade Bianche experience.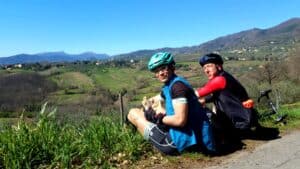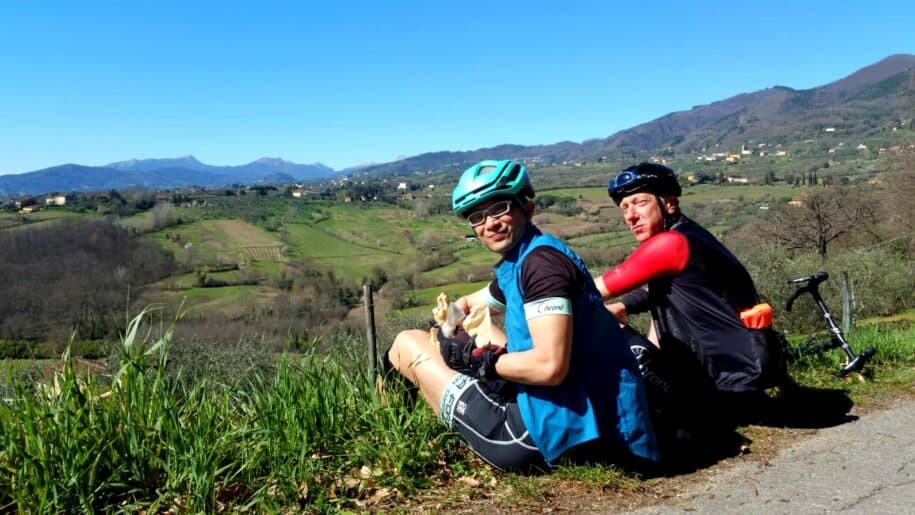 By 11am we were back in Lucca and everybody settled back into their room at the Palazzo Dipinto.  Some then went for a walk around Lucca, others had a small siesta.
We met again at the Bike Shop before leaving for a muscle recovery bike trip, pedaling around the flat areas in Lucca.
In the evening, we dined at a great restaurant in the heart of Lucca.
The next day, we returned to some serious cycling.  We heading up towords Pizzorne on a 65 km ride 1000mt above sea level, pedaling through some charming medieval villages.  Nature decided to gift us with the most amazing views of mountains and in the far distance, of the sea. A great moment to be remembered for our guests.
Grazie & Arrivederci friends:
In today's world, where people have little free time,  an experience like this can give you so much.  A longstanding client and friend of ours that took place in this event said: " Life has been so chaotic lately in California, if you get to see your friends 3-4 times a year, you are lucky."- watch out for his upcoming interview on the strade bianche bike tour in our next blog post. We were so happy to see the smile on his face during this tour – that's why we do what we do.
It's all about creating great experiences and getting people smiling.
We are so pleased with how this Pop up Tour went that we are already planing a Strade Bianche Bike Tour 2020.
For more information, email us at info@chronoplus.com
Ciao a tutti from the C+ Team.