Pedaling gets minds moving – Strade Bianche Bike Tour:
This Bike Tour in Tuscany was not planned for this 2019, until one sunny winter day, when pedaling towards the Cappella, Gabriele and Paladino, co-founders of ChronoPlus, minds got moving.Once they rode to the top of the 8 Km steep hill – a favourite of ours for our winter training camp – they stopped, took in the view and started sharing ideas. It was clear to them that it was time to pull out a surprise, by creating a pop-up Bike Tour.
How the event became Official: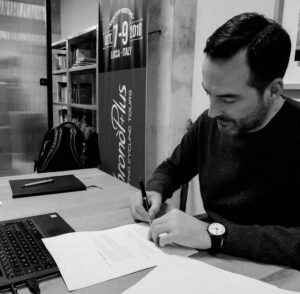 A few calls were made by Paladino and in a few days the bike tour was overbooked! From the first day excitement grew around this unique event.
The ChronoPlus Team changed gear. Emails and messages were sent, calls were made. Our graphic designer Francesca came up with some great digital material. In two weeks the idea had become Official.
Strade Bianche Bike Tour 2019 here we come.
Where the event takes place:
Since 2007 the growth of this granfondo has been enormous. In just a few years the event has acquired great fame. The race takes part in the UNESCO World Heritage site of Siena. We will be riding on the country lanes and farm tracks, twisting through the hills and vineyards of the Chianti region.
History of the event:
All this excitement got me thinking and wondering about the history behind this race however there is not much history before 2007. I did come across "the forgotten 120 year history of the Strade Bianche" article wrote by Chris Fontecchio. I found myself hypnotised by it's content, great article full of incredible stories.
In bocca al lupo to all it's participants:
The Strade Bianche is for sure a spetacular bike event to take part in and for this reason we wish everyone that will be present, a great day. Enjoy cycling in Tuscany and don't let the day finish without tasting the amazing food and vino.In bocca al lupo from the C+ Team.