The True Italian Cycling Experience – ChronoPlus
Jonathan Chow, an anesthesiologist from California, comes to Italy every year and has been doing so for 9 years! He has just participated in The Strade Bianche Bike Tour 2019 and will be coming again for his annual May visit– he can't get enough!! Jonathan kindly agreed to be interviewed so he could share his feelings on the true Italian cycling experience he has had with us over the years.
Why I Love visiting Italy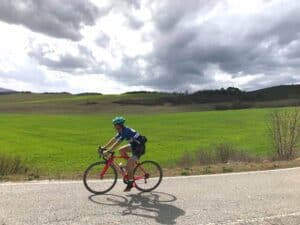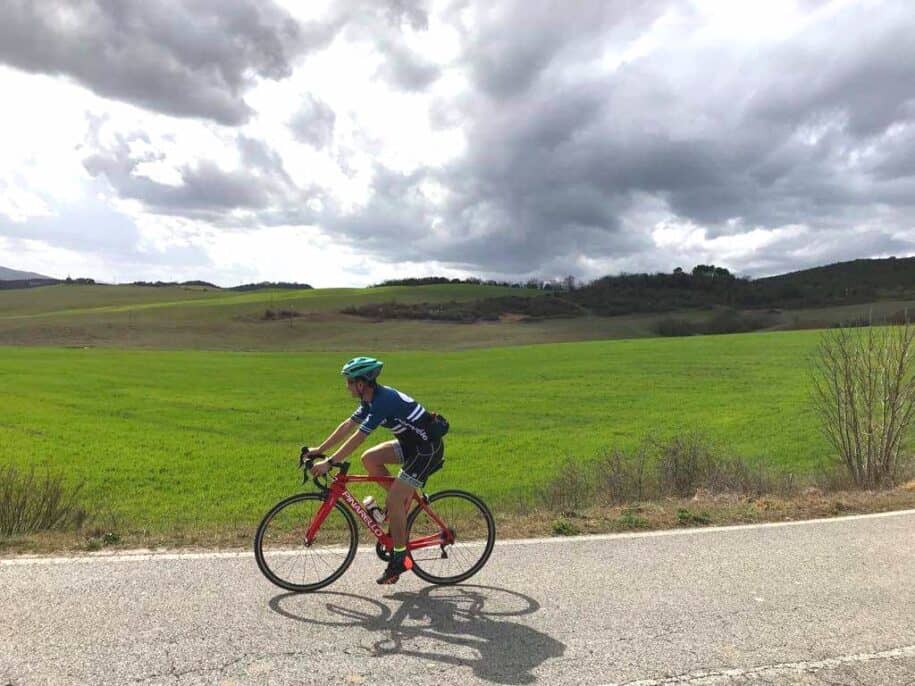 I've been to Italy many times, this recent trip has been a unique experience. When I visit places I'm always looking for authentic adventures, I don't want to travel to a country as a tourist, as soon as I touch Italian ground, I want to feel Italian. I want "la vera Italia", the true sense of what people are, the true sense of what the food and the wine is, the true Italian culture. The warmth and the friendship is so genuine that there's no doubt that it is sincere and comes from the heart. This is what Paladino and Gabriele have managed to create for me during this visit.
ChronoPlus Cycle Tours – The Complete Italian Experience
I've travelled with many tour companies and each one has their own philosophy. Some just isolate you while others let you run wild. What ChronoPlus has managed to do is to find the right balance, by not making me feel like an "American in Italy" but an "American among Italians". They act as a type of bridge between Americans and Italians.

For example, their careful attention with regard to the choice of restaurants. This type of eating experience will appeal to those who've been everywhere and experienced many levels of cuisine. This is just the right combination of authenticity and level, the correct balance: not Michelin, not café. You actually feel like an Italian being served the best Italian food and wine. I feel that having Gabriele and Paladino with me is like having your Italian cousins looking after you.
Logistics
Talking about the important aspect of logistics on a bike tour, Giacomo, experienced mechanic and masseur, and Paladino and his tech team do a great job and even more so for the serious cyclist. The bike set-up, bike fixing, the care in technicalities and preparations are downpat. Nothing is left to chance. The client doesn't have to worry about having anything, it's all there for you. Just bring your helmet and preferred pedals. It's a smooth operation!
Accommodation and more
The Hotel in Lucca? Wow, what can I say. Great experience, great service. A four star superior hotel hidden inside the walls of Lucca. Keeping the traditional style on the outside, but bringing it to a top modern up to date level inside. An important aspect I would like to note during the bike tour and something that meant a lot to me, was the excellent laundry service provided by ChronoPlus, a very nice touch. It's often a problem when you're travelling and I honestly can't think of another tour company who does this.
Strade Bianche
The ChronoPlus Strade Bianche Bike tour has been fantastic!
The hotel they chose was very unique and right on course. Being able to pre-ride the Strade Bianche was invaluable as most US riders don't cycle roads like these with road tyres. It helps incredibly to test it out first. For the actual Strade Bianche race, I was not used to the aggressiveness of participants, I learned to know my limits, not to chase these riders, not to go in blind, not to get caught up in the moment. I simply enjoyed the amazing experience. Granfondos in Italy are twofold: for those there to race or those who want an easy experience. The Strade Bianche is exactly this type of negotiable event, I chose the shorter route and with C+ I was able to absorb the unique beauty and white roads of the Strade, I also occasionally stopped to take some pictures to capture what will become great memories, reminding me of the beauty my eyes came across.

The arrival of the Pros in Siena was a highlight made even more special by the perfect vantage point ChronoPlus obtained access to. The energy and intensity of the crowd was superb. This tour was an event into an event, a real treat. ChronoPlus' smooth logistical handling made it easy to enter into the Granfondo Strade Bianche Race, not something clients could manage on their own as you need all kinds of paperwork, race ID, formal documents, medical certificates etc. etc. You need full Italian language for this! Again, ChronoPlus introduced us to their favourite restaurants – different, traditional and that word again, unique!  A culinary delight.
Lucca and its Pro Cyclists

Lucca is such a cool place for cycling. If you're into the whole pro cyclist scene, then you'll see Pala waving down and chatting to many of them on the roads around Lucca. He knows so many pros on the road. This is a cycling paradise for professional riders and is where they live and train in the months between their big races. This is very special for all cyclists. Over the years I've been coming here I've met Ben King, Ethiopian climber Daniel Teklehaimanot (who used to live here!) and the Italian Champion Fabiana Luperini – What special opportunities these are.
Ask Existing Clients
On a closing note, Jonathan urges potential clients to talk to existing clients – the people who know the true ChronoPlus experience. He absolutely includes himself in this and would be delighted to communicate his experiences to anyone who wants to listen. ChronoPlus have many client contacts all over the world. Services can be conveyed well online but there's nothing like talking to someone who has first-hand knowledge of what Jonathan describes as "the true Italian cycling experience". Your friends at ChronoPlus look forward to seeing you again in May Jonathan!
If you have any questions or would like further information about his experiences you can contact him by email: