Ever found yourself staring out of the window at the cold drizzly weather dreaming of the perfect cycling holiday? Well how does this sound…?
Cycling surrounded by oceans of olive trees, vineyards, oak and cypress groves, rolling hills, enjoying fresh pasta and great wine. – many define this as a "cycling paradise".
Tuscany offers an ideal location for cycling enthusiasts of all levels. From flat roads to great climbs, from asphalt roads to gravel roads, Tuscany has it all.
You will be able to push yourself to the limits on the same roads that many cycling legends trained along, such as Bartali, Coppi, Bettini and the most recent Cipollini.
In this region you breath cycling.
Here are the 5 best cycling destinations as to why you should choose Tuscany for your next bike tour:
Lucca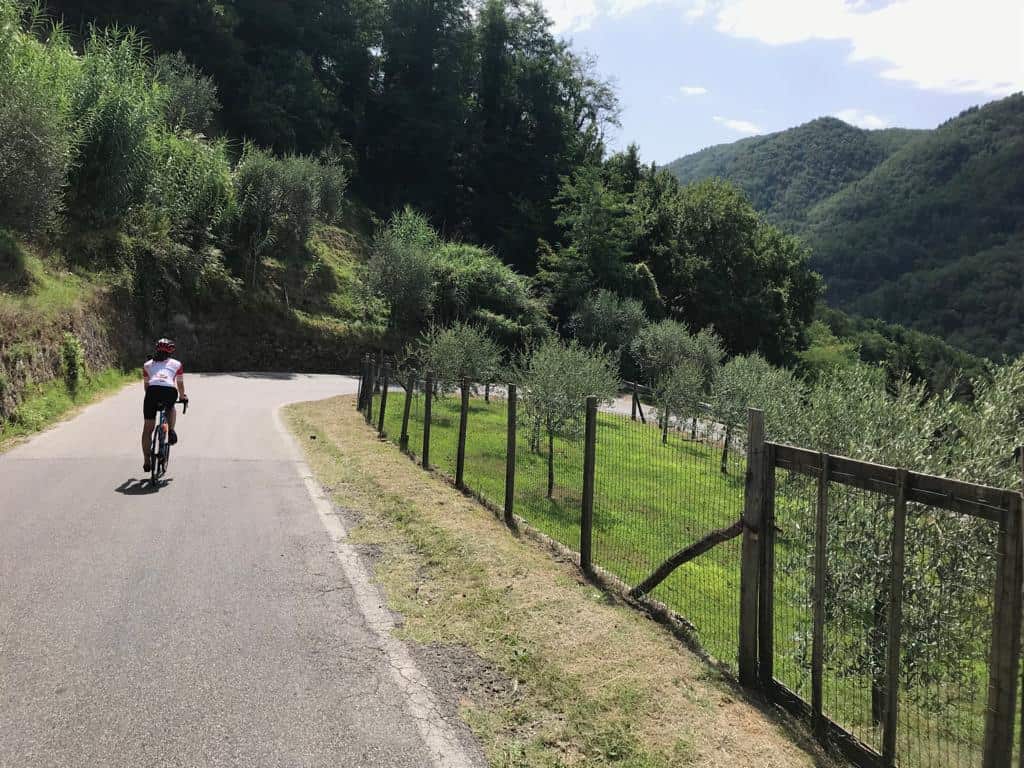 A medieval city rich in art, culture and food. Protected by its ancient walls, Lucca is truly a hidden gem of Tuscany. A cyclist's paradise for many, as there are more than 50 different routes satisfying every kind of cycling level.
Many Pros have and still do choose Lucca as their training retreat, cycling in the hills around Lucca, surrounded by olive trees and vineyards, helping them prepare for the races ahead.
Ciclismoplus headquarters are based in Lucca and the whole team lives and cycles here. As locals we would like to suggest to whoever has the chance to cycle in this magnificent area not to miss out on one of the best climbs, Monteserra. This is a serious climb, about 8km long with an average gradient of 6%, Tackled at the right pace you will be able to enjoy the wonderful landscapes that you pass through. During our Lucca bike Tour we will tackle this climb on Day 2.
Lucca is also an amazing destination for after-cycling activites such as wine tasting, Italian lessons, Gelato and much more. Its position is fabulous, it's just a couple of hours away from other beautiful cities such as Florence and Pisa.
Siena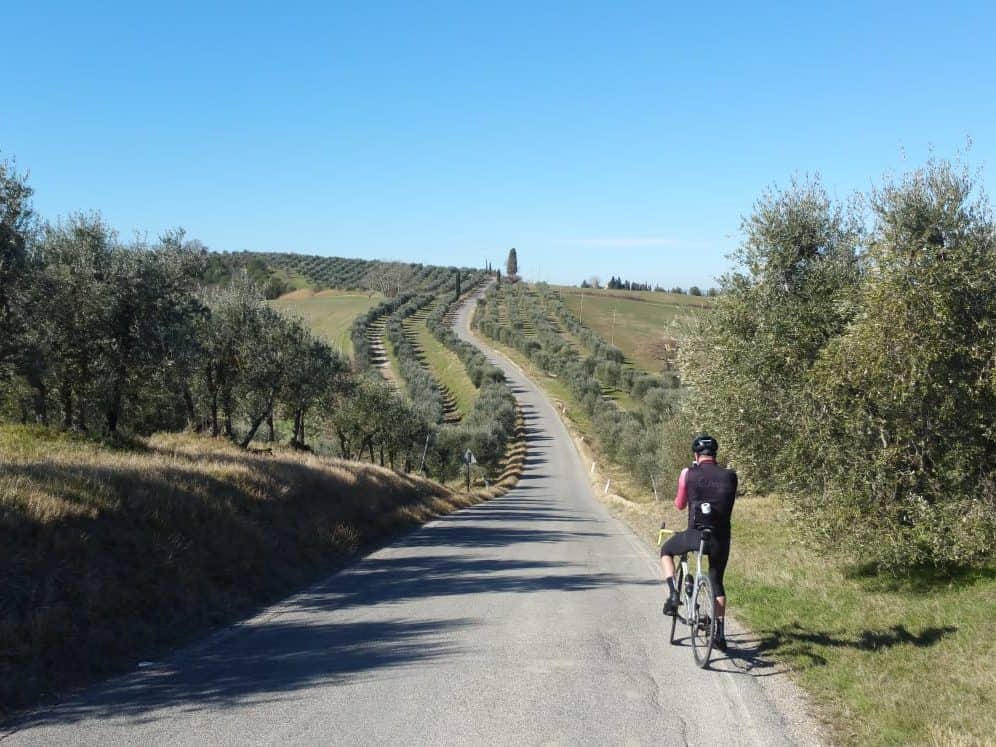 Just recently mentioned by Lonely Planet in the article "10 best places for a cycling holiday in 2020" Siena is a true treat for your eyes. With views like these no wonder it attracts so much attention.
Its beauty has brought it to be inserted in the UNESCO World Heritage site.
Home of the world renowned Eroica and Granfondo Strade Bianche races, Siena is a gravel heaven.
Its dusty, gorgeous pathways are what make our Strade Bianche bike tour truly unique. During this bike tour you will discover the Siena area during the first 5 days, then enjoy the Strade Bianche event during the weekend (pros race + competing in the amateur race).
The fact that cycling heroes such as Bartali and Coppi have cycled along these gravel roads makes it even more special.
While cycling in this area you will soon understand why Siena is well known for its "Vino Rosso" , as you will find yourself surrounded by gorgeous Tuscan farmhouses and vineyards.
Brunello di Montalcino, Chianti Classico, Chianti colli senesi. These are just some of the unique wines you can find tasting while relaxing enjoying home made Pici with an enchanting sauce.
Volterra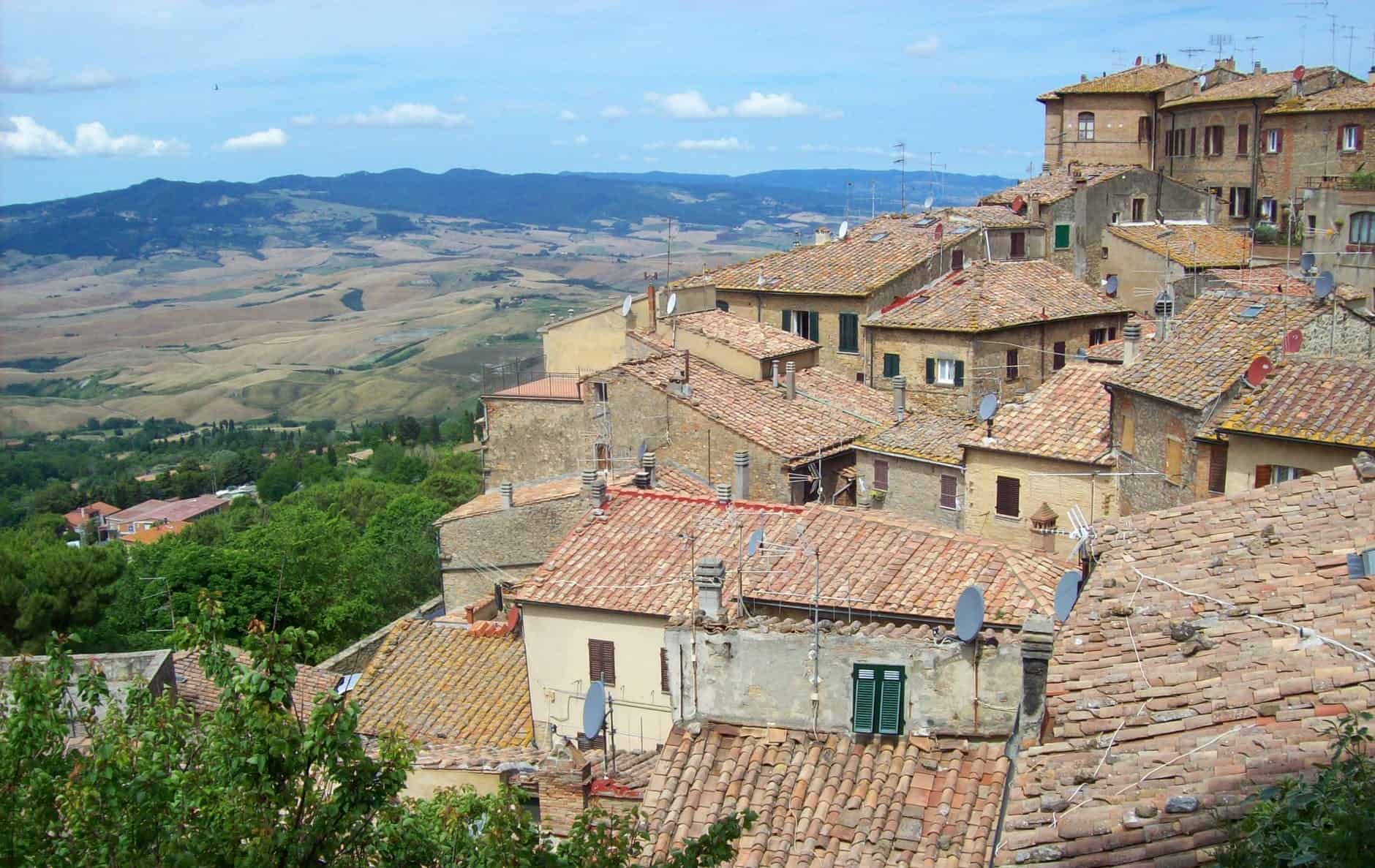 Maybe the less well known out of the 5 destinations we have chosen. The charming town of Volterra is situated in a very interesting point not too far from Pisa, Florence, Siena and the coast.
While walking down its cobbled streets you will come across the presence of Roman, Etruscan and medieval structures.
Cycling up and down the twisty roads of this area you will discover its true beauty. The landscapes that surround it are breathtaking: wheat fields, green hills, rows of vineyards, silver olive groves and some hints of bushes – this area has it all.
A cycling trip is absolutely the best way to truly get to know this part of Tuscany, catching a glimpse of an area known only to locals.
San Gimignano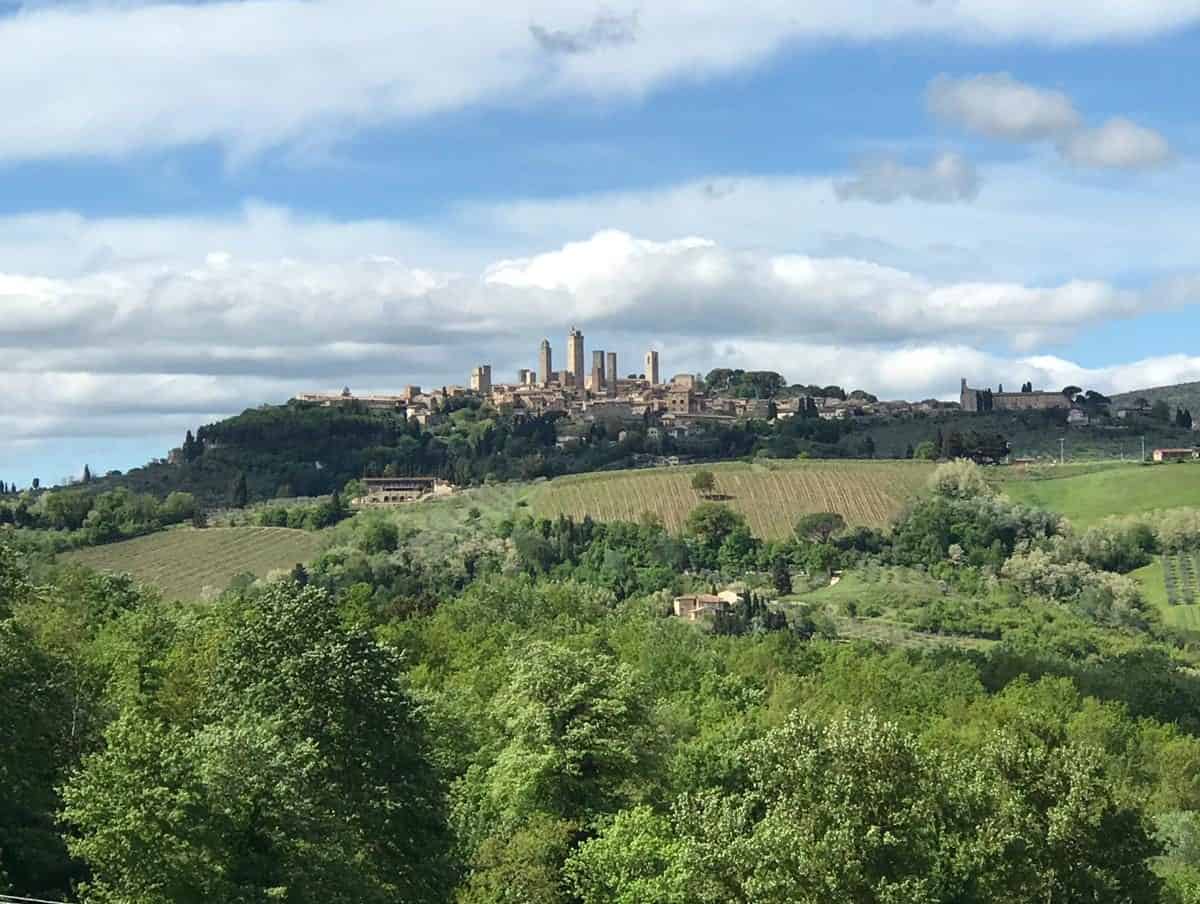 Another UNESCO World Heritage Site is the stunning town of San Gimignano. Aka "Manhattan of Tuscany", town Famous for its numerous medieval towers, is another great area for cycling. Very much like the Siena area it offers a variety of gravel and non gravel itineraries cycling through breathtaking views surrounded by vineyards and golden rolling hills.
San Gimignano is one of our favourite stops during our Via Francigena bike Tour, a unique point to point bike tour that sees us cycle from Lucca to Rome along the ancient road and pilgrim route.
Once in San Gimignano we always invite our guests for an aperitivo and to enjoy a platter of cheese and cured meats while sipping from a glass of San Gimignano's well known "Vernaccia" white wine.
San Quirico d'Orcia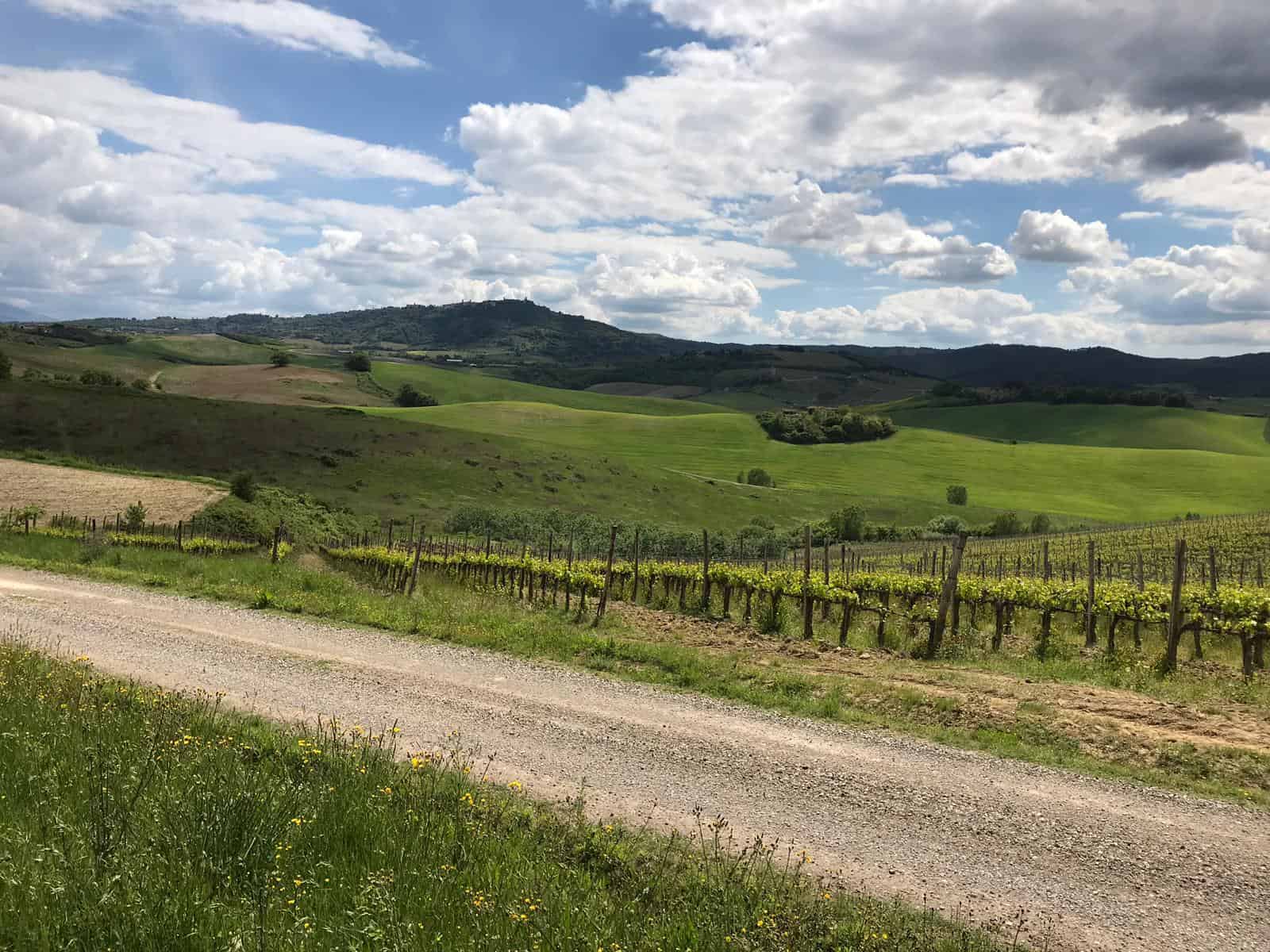 Once identified by the Dutchmen Van Der Meer, an archeologist who specialized in Etruscology, as the oldest book in Western Europe, San Quirico d'Orcia is an ancient Etruscan Village rich in art and culture. Famous for its churches and gardens, whilst walking around this mesmerizing town, you may well find that you are asking yourself if you have somehow gone back in time.
San Quirico d'Orcia is another destination that many discover due to the fact that it is located along the Via Francigena.
While cycling in this area you will find yourself taking a few minutes to stop as the views just take your breath away, especially the skyline of Siena looming on the hills.
Everytime we find ourselves near this area during one of our Bike Tours we make sure we include San Quirico d'Orcia as a destination on our itinerary.