How we discovered Ciclismoplus
As an Italian language teacher in the U.S., I include a unit on the famous Italian cycling champion, Gino Bartali. His fame is not only as a Giro D'Italia and Tour de France winner, but also as a hero who saved the lives of many Italian Jewish families during the German occupation of Italy in the 1930s-40s.
Bartali's story is not well known. He was part of an underground network led by the Cardinal (Archbishop) Elia Dalla Costa to help protect Jewish citizens from persecution in the German concentration camps. Under the guise of training for the next race, Bartali used his fame and courage to evade suspicion to transport false documents hidden in the frame of his bicycle during his journeys from Firenze to Assisi (and back).
While conducting research on Bartali, Ciclismoplus appeared in the results, as one of their cycling tours in Italy – Lucca to Assisi Bike Tour – followed Bartali's path. I took the opportunity and contacted them about organizing a bike tour of this heroic cyclist.
Our bike tour with Ciclismoplus
After riding from Lucca to San Miniato to Firenze, we embarked on the Bartali portion of the ride. KM 0 – Firenze – The first stage traveled the very roads Gino Bartali rode during World War II, and it was exhilarating.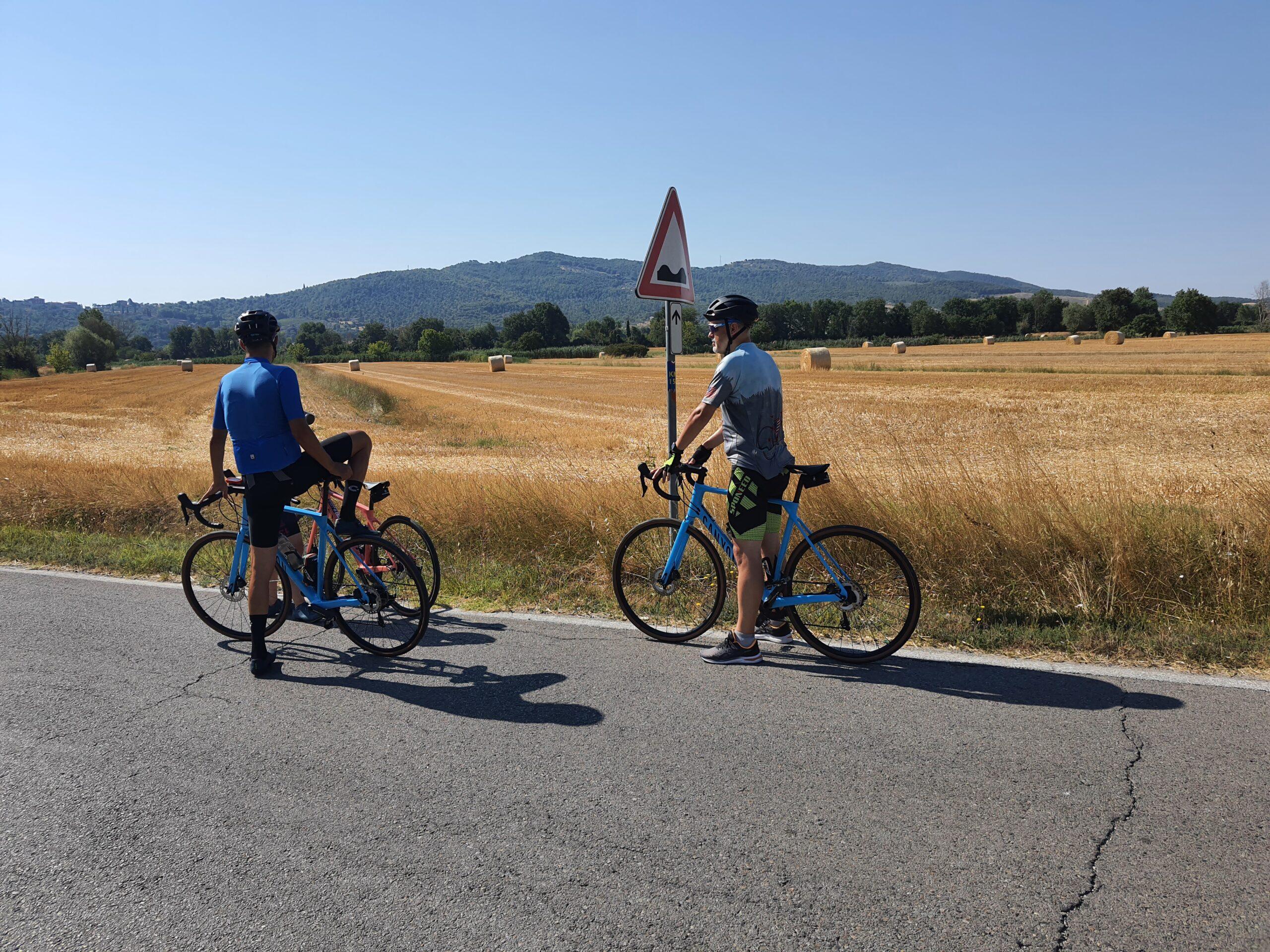 As we pedaled through the Tuscan hills and valleys to reach Assisi, stopping along the way at poignant places where Bartali played an important role in the network.
Ponte A Ema – Bartali's birth place – Gabriele Mirra, our cyclist leader, contacted someone affiliated with the Gino Bartali Museum, which we were able to tour before leaving on our ride. The museum houses important memorabilia, including his bicycles, shoes, jerseys, articles, photos and his recognition of Yad Vashem, The Righteous Among the Nations, which honors people who risked their lives to save others during the war.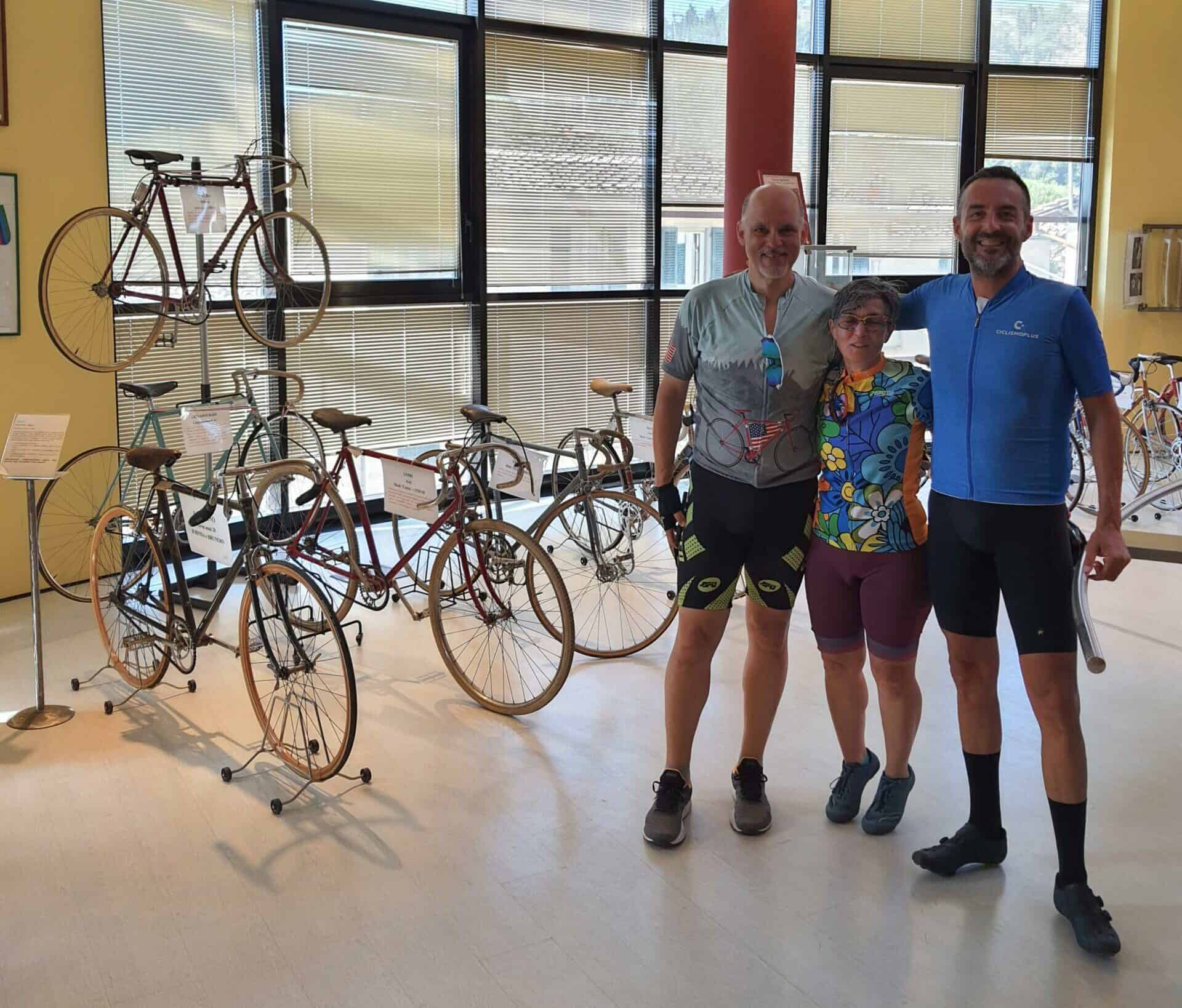 Terontola Train Station – Bartali used his fame to distract soldiers as they gathered around him when he arrived at the station. It's important to note that cycling was a high profile sport at the time and his fame rivaled Michael Jordan, for example. He would go to the station cafe for a coffee, and by drawing attention away from the trains, he allowed many prisoners headed to Auschwitz to switch trains and escape the horrors of the concentration camp.
Assisi – Approaching from a distance, you can see Assisi nestled in the hills. It was our final destination after riding 200 KM from Firenze (442 KM total from Lucca, which encompassed the full tour). Reaching Saint Francis Basilica was one of the most moving experiences.
Gino Bartali
Bartali was a humble man who risked his life for many he did not meet, and his quote "Il bene si fa ma non si dice. E certe medaglie si appendono all'anima, non alla giacca," epitomizes the human being he was. (Good is something you do, not something you talk about.  Some medals are pinned to your soul, not on your jacket.)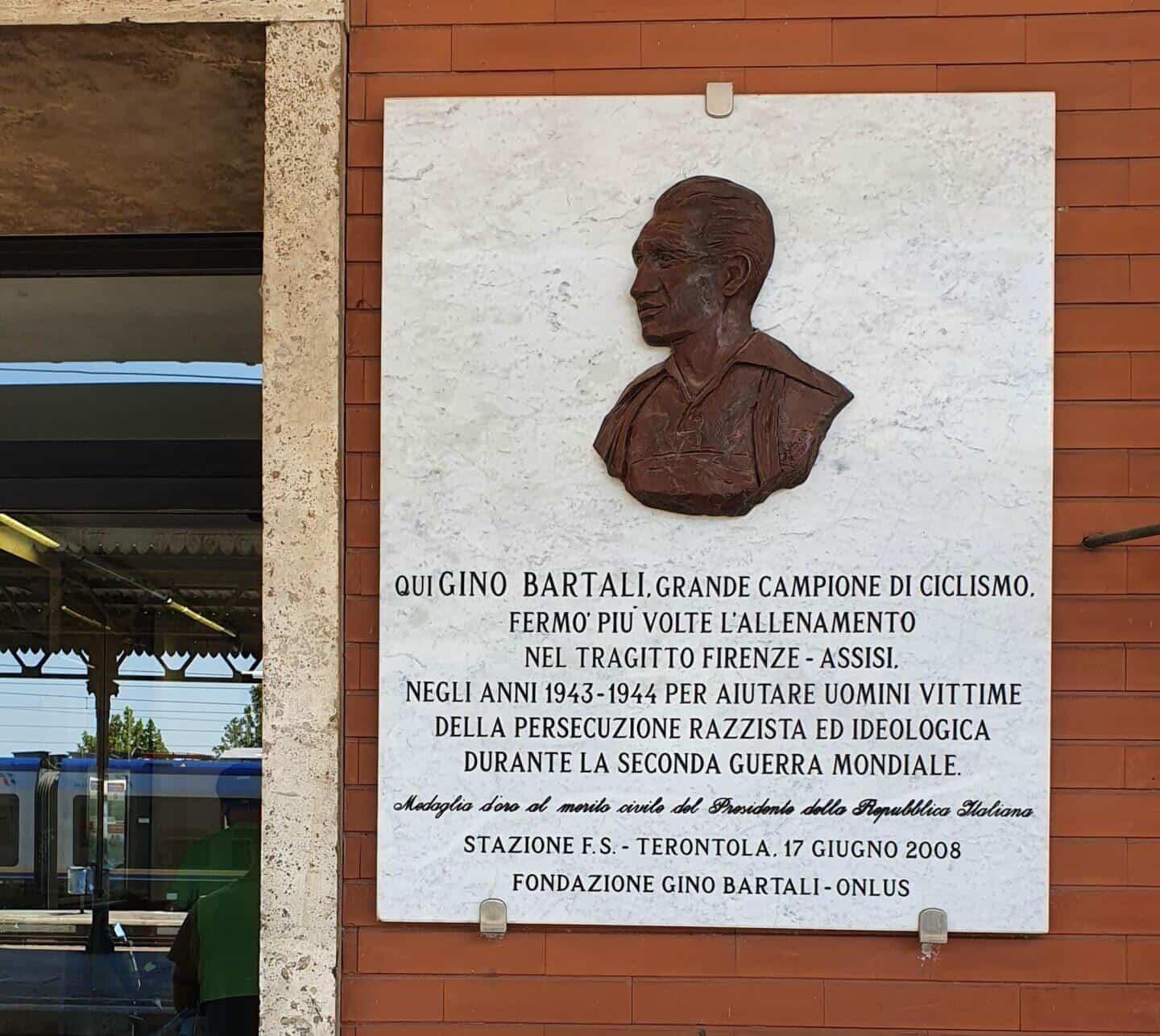 Ciclismoplus is…
I was impressed with the knowledge and care that Ciclismoplus (Gabriele and Max) put into the development of this cycling trip. Their incredible attention to every detail made this a trip of a lifetime. Just the ride through the beautiful Italian countryside was amazing enough, but following the footsteps of history made it unforgettable.
Content provided by Rina Miraglia