How we discovered Lucca
Last year I had a cycling holiday in Spain with some members of my local cycling club. We stayed in four towns for a week each and it was a fantastic experience. A few of them had done a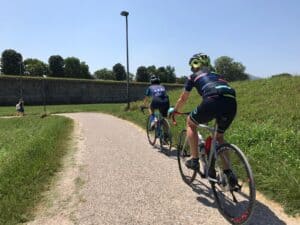 similar cycling holiday to Italy a few years back and had visited Lucca. I was told that I 'must visit Lucca' – I was assured that I 'would love it'. When I returned home to Melbourne I got in touch with Ciclismoplus and started planning my bike tour in Italy for myself, my husband and fellow cycling friends. First stop Lucca.
Our bike tour with Ciclismoplus
Monday morning we met up with Gabriele and Paladino from Ciclismoplus. Our near new Pinarello bikes were ready for us and were fantastic bikes to ride. I had travelled with my own bike on previous bike holidays but for this trip I decided to try hiring a bike.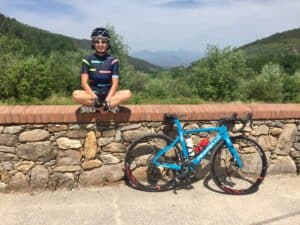 I was very pleased with the convenience of hiring and the quality and fit of the bike. We had sent our measurements ahead so the bikes were fitted very quickly and we were off.
Ciclismoplus provided us with custom made riding experiences every day. They knew we were coming from winter in Australia and continuing onto The Dolomites so they started us with a comfortable easy ride and increased the elevation each day. We had beautiful rides through the country-side, tiny little villages and a good number of 5-10 km climbs to strengthen our legs. Every aspect of the ride had been considered and incorporated into the day in a very subtle way. The routes were quiet and extremely picturesque. Cool water fountains were found whenever our bottles were running low and the breaks to catch our breath coincided with spectacular views or tiny villages for coffee and gelato stops. We always felt safe and confident with our guides, they seamlessly lead us through round-a-bouts and in and out of towns while we adjusted to our new bikes and riding on the opposite side of the road.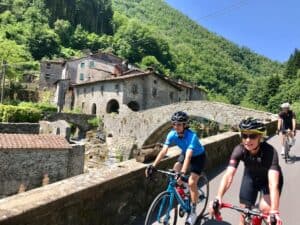 Gabriele and Paladino were constantly sharing their local knowledge with us, pointing out Puccini's house on the far bank of Lake Massaciuccoli, riding us through Collodi, the town of Pinocchio and riding under an intact Roman aqueduct. On the last day when Gabriele and Paladino had to leave for a cycling tour in The Dolomites we were treated to being guided by five times Woman's Giro winner Fabiana Luperini she who showed us her favourite roads and pointed out where her mentor Mario Cipollini lived! The rides were beautiful and as a bonus, Gabriele had taken photos and videos galore which he shared with us. I have since looked back through the photos and watched the video and the warm, relaxing vibe is tangible.
Ciclismoplus not only provided excellent rental bike service and guided rides but they also provided us with a full Lucca experience by going the extra mile every day. They gave us advice for places to visit on our rest day and local restaurants even inviting us to dinner with their family and friends including six-times Tour de France rider Jan Wynants, who joined us for a ride the next day. Giacomo who works with ChronoPlus as a masseur was racing one evening in a local bike race and Gabriele, Paladino and their wives kindly drove us an hour to Livorno to have dinner and watch the race. It was a great experience.
Ciclismoplus is…
ChronoPlus is an excellent company that provides a high quality product for cyclists. Our visit was easy to arrange from Australia and exceeded our expectations. Not only is the Ciclismoplus store situated within the walled town, with a bar for pre ride expresso on one side and post ride gelato shop on the other, but it is owned and managed by an excellent team of genuine, caring, engaged and generous cyclists.
We were sad to say goodbye to Lucca, to the warm weather, pretty countryside, spectacular riding and the ancient local architecture.
We were also sad to say goodbye to Gabriele, Paladino, their staff and family. They had taken us under their wing for a week and made us feel at home in Lucca, a cycling and historical mecca.
For sure we will be back.
Megan